Welcome to The Dark Times Fanzine (DTF), a direct and spiritual descendant of Demonground and Protodimension Magazines (PDM). Fostered in part with the laying to rest of PDM, DTF is the newest online free gaming magazine with a focus, still, on the "horror-conspiracyweirdness" sphere along with Modern, Post-Apocalypse and Realism genres. Where our predecessors had a more focused approach to settings & systems, DTF plans a broader, sometimes systemless approach to our fare and offerings.
You can discuss this issue of The Dark Times here on our Forums.
Download The Dark Times Fanzine – Issue 2 – Winter 2017 in PDF format (4.1 meg)
In this issue of the Dark Times: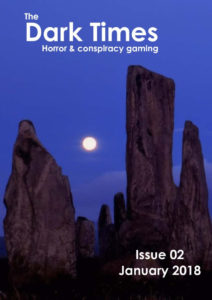 Elements by Davide Quatrini – A look at Additional Philological Elements on 'Cthulhu' Name
Dark Times Interviews author I.E. Lester – A quick chat with the writer of The Stairs Lead Down
Using Qi by Yicheng Liu – Optional rules for Asian Cultures in Call of Cthulhu
The Voshkod Incident, an alternative future terror by Davide Quatrini
Libram Memoriam by T. Mike McCurley – A tome for all game systems
The Vanishing Varigotti – An adventure for Trail Of Cthulhu, set in the weird world of stage magic by Joe "Citizen X" Klemann
Part 2 of Kevin O'Neill's A Short Guide to Australia – What to do with all that unoccupied space?
The inaugural issue of The Dark Times Fanzine.
Download The Dark Times Fanzine – Issue 1 – Autumn 2017 in PDF format (2.3 meg).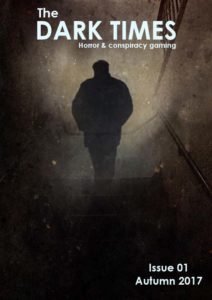 This autumn 2017 release includes:
Fantastic cover art 'Stairway' by Michael Marshall Smith
An introduction by assistant editor Tad Kelson
The regular In The Editor's Attic editorial musings from Lee Williams
The Open Veil, this issue's featured adventure. A Dark Conspiracy-styled ghost hunt in an abandoned sanatorium by Paul Riegel-Green
A Delta Green Shotgun Scenario First Hand Accounts by Eric Rodriguez
A short adventure for Trail of Cthulhu Carcosa Fringe Festival by Sean Smith
Web of Deception – a quick & dirty scenario for Dark Conspiracy by Tim Bisaillon
Ten Spiritual Parasites, a list of unpleasant undead infestations by Eric Fabiaschi
A Short Guide to Australia, travel advice for Dark Conspiracy by Kevin O'Neill
The Trouble With Dr Murphy, a Silent Legions scenario by Eric Fabiaschi
The IDEAL Conceal, a handgun for Dark Conspiracy & Call of Cthulhu by Lee Williams