Challenge Magazine was first produced in 1986, as a re-imagining of Game Designers Workshop's existing Journal of the Travellers Aid Society (JTAS) publication (which at the time supported  GDW's  most popular game – Traveller).  In order to maintain continuity with this earlier magazine, Challenge's first issue appeared as #25, and although these early issues continued to focus on Traveller, over time material for other GDW's gaming systems (including Twilight: 2000, 2300 AD, and Space 1889) began to appear.
Becoming increasingly popular, the magazine expanded to 64 pages by issue #30 and also began to publish material for games not produced by GDW (such as Chaosium's Call of Cthulhu or West End Games' Star Wars). In 1996 the changing landscape of gaming forced GDW to stop publishing Challenge (after attempts to make it more viable), just prior to the closure of the entire company later that year. Over its entire production run, a total of fifty-three issues of Challenge were released (through issue #77).
The first material for Dark Conspiracy was first included in issue #47 (1990) and would continue to appear in almost every copy until the magazine's closure. This content ranged from adventures through to fiction and everything inbetween.
Issue #47 (1990)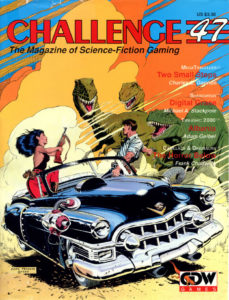 Dark Conspiracy Special Insert
Description – Promotional Colour Pull-out
Author – Lester Smith & Frank Chadwick
Page Count – 8 pages
An Ancient Horror Grips the Earth – A glossy, colour pull out promoting the upcoming release of Dark Conspiracy. It provides fiction (both the opening story from the Core Rulebook, as well a vignettes of various archetypes – Reporter, Astronaut, Prole, etc.), in addition to outlining the game's core aspects (detailing the high concept, the coming of the Darkling/Minions and why you fight them, etc.). It also highlights the key selling points of the game – the system being based on Twilight: 2000, a 'fascinating environment' and 'comprehensive support'.
Issue #48 (1991)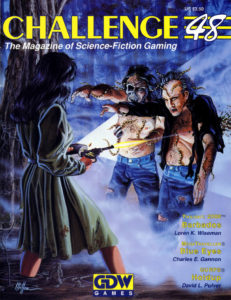 Zombies of the Bayou
Description – Dark Minions
Author – Frank Chadwick
Page Count – 2 pages
The following bestiary encounter information may be used as background to generate Dark Conspiracy adventure ideas. Dark Conspiracy, the new roleplaying game of modern horror, releases next month from GDW.
Issue #52 (1991)
Things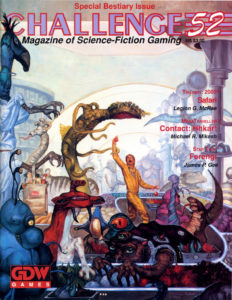 That Go Bump in the Night
Description – Dark Minions
Author – Lester Smith
Page Count – 2 pages
One of the most important themes of Dark Conspiracy is that everything changes, continually. Consequently, players ought to find their characters facing new plots, new creatures, new challenges every time they play. It is in that spirit that we present to you the following trio of new beasties for use in your Dark Conspiracy adventures.
Issue #53 (1991)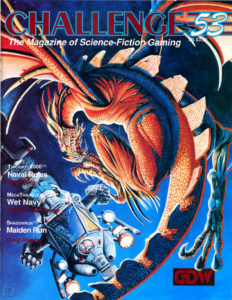 A Grisly Harvest
Description – Scenario
Author – Eric Haddock
Page Count – 7 pages
Parents told their children to stay away from the house on White Chapel Lane. Strange things went on there, and strange people visited. Strangest of all, there seemed to be a lot of package delivery – the type of packages a hearse might deliver …
Issue #54 (1991)
Your Own Worst Enemy
Description – Scenario
Author – Lester Smith
Page Count – 5 pages
To the world at large, Abraham Sylvester is known only as a reclusive billionaire (albeit one with a propensity for openhanded donations to charity). But a select few individuals know Sylvester as one of Earth's most cunning opponents to the Dark Ones.
Issue #55 (1991)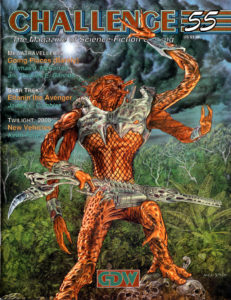 The Thing on the Bike Path
Description – Scenario
Author – Dr Michael C LaBossiere
Page Count – 5 pages
It's like something out of those spooky books by that old Maine horror writer. People… are disappearing off the University of Maine bike trail, and only pieces of them have found. The police think it might be bears. But I know bears, and bears don't do stuff like what was done to those bodies. It's something else, something from a long time ago.
Issue #56 (1991)
Gnawlings
Description – Scenario
Author – Charles E. Gannon
Page Count – 5 pages
Issue #57 (1991)
Patron
Description – Scenario (includes sidebars on Cost of Living and Finding Work)
Author – Craig Sheeley
Page Count – 7 pages
Issue #58 (1992)
The Only Good Monster is a Dead Monster
Description – Scenario
Author – Craig Sheeley
Page Count – 5 pages
Issue #59 (1992 – April Fools Issue)
I Hate Mondays
Description – Scenario
Author – Adam Geibel
Page Count – 7 pages
Issue #60 (1992)
Samedi Night Fever
Description – Scenario
Author – David Schuey
Page Count – 3 pages
Issue #61 (1992)
Out of the Depths
Description – Scenario
Author – Dr Michael C LaBossiere
Page Count – 7 pages
Issue #63 (1992)
Enemy of My Enemy
Description – Scenario
Author – Craig Sheeley
Page Count – 4 pages
Issue #64 (1992)
Shadow Over New Brunswick
Description – Scenario
Author – Dustin Browder
Page Count – 6 pages
Issue #65 (1992)
Dark Halloween
Description – Mini Scenarios (Scarecrow, Down to New England, and The Bet)
Author – Dr Michael C LaBossiere
Page Count – 2 pages each
It Plays with its Food
Description – Fiction
Author – Charles E. Gannon
Page Count – 2 pages
Issue #66 (1992)
Trick or Threat
Description – Scenario
Author – Craig Sheeley
Page Count – 6 pages
Issue #67 (1993)
Mall Rats
Description – Scenario
Author – James L. Cambias
Page Count – 5 pages
Issue #68 (1993)
Window of the Mind
Description – Scenario
Author – Dr Michael C LaBossiere
Page Count – 6 pages
Issue #69 (1993)
Road Work
Description – Scenario
Author – Dr Michael C LaBossiere
Page Count – 6 pages
Issue #70 (1993)
Fear and Loathing
Description – Rules Variant
Author – Craig Sheeley
Page Count – 2 pages
Issue #71 (1993)
Dusted!
Description – Scenario
Author – Dan Snuffin
Page Count – 3 pages
Issue #72 (1994)
Last Stop
Description – Scenario
Author – Dr Michael C LaBossiere
Page Count – 5 pages
Issue #73 (1994)
Ice, Ice, Baby
Description – Scenario
Author – Dr Michael C LaBossiere
Page Count – 5 pages
Action/Reaction
Description – Scenario
Author – Christopher Ziegler
Page Count – 5 pages
Issue #74 (1994)
Globules
Description – Scenario
Author – Dr Michael C LaBossiere
Page Count – 6 pages
Issue #76 (1995)
Way Down Atlantis
Description – Scenario
Author – Dr Michael C LaBossiere
Page Count – 10 pages
Issue #77 (1995)
The Beast Under the Bed
Description – Scenario
Author – Dr Michael C LaBossiere
Page Count – 5 pages
Issue #78 (Unpublished)
Flashback
Description – N/A
Author – N/A
Page Count – N/A
The Shroud
Description – N/A
Author – N/A
Page Count – N/A