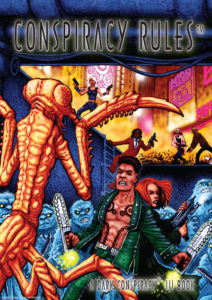 Dark Conspiracy the RPG.info (DCtRPG) is a website dedicated to the Dark Conspiracy RPG (as published by Games Designers Workshop, Dynasty Presentations Inc, and until 2017, 3Hombres Games).
An action driven horror game, Dark Conspiracy reflects the world's fears of government control, corporate power and the unknown, that emerged early in the 1990s. This zeitgeist in society and gaming would see the rise of TV series such as the X-Files and emergence of the Delta Green RPG. Dark Conspiracy pre-dates both of these icons, and in some ways is darker and deadlier than they could have ever been.
As well as being host to an unofficial DC forum, this site aims to reflect on the setting, system and products associated to this imaginative game.
Who is DCtRPG?
This site is run and maintained by Marcus Bone, a long time Dark Conspiracy fan (and a Founding Editor of DEMONGROUND fanzine), who also wrote the second edition supplement – Of Gates & Gods – and lead an attempt to republish the game in the mid-2000s (which ultimately failed, but the spirit of which is reflected in the Conspiracy Rules! edition). Marcus is dedicated to supporting Dark Conspiracy, and will continue to provide this site as long as this fantastic game remains of interest to fans and players world wide.
The site's Forum is open to all, and is ably moderated by Marcus and Lee Williams (see an Interview with Lee William – 3Hombres Editor).
Contributing to DCtRPG?
DCtRPG loves to hear from Dark Conspiracy fans both old and new, and is always looking for others to contribute to the site. In particular we are hoping to expand our range of reviews, interviews and news, but are happy to discuss any Dark Conspiracy content (although for larger or more specific articles, we recommend you look at submitting material The Dark Times Fanzine, a online magazine devoted to the wonderfully creative world of modern conspiracy horror role playing).
To contact us any questions, please register via the Forum and send a Private Message to Marcus Bone.