Updated April 2020 – Amargosa Press Acquires Dark Conspiracy License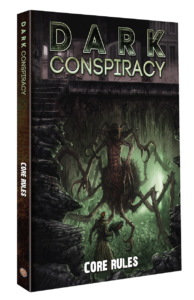 Amargosa Press has signed a multiyear licensing deal with GDW to create, support and publish a new edition of the Dark Conspiracy Tabletop Role-Playing Game.
Dark Conspiracy is a near future horror role-playing that was originally published by Games Design Workshop (GDW) in 1991, followed by a second edition in 1997 and a third in 2012. Most recently a new fourth edition was being developed by Clockwork Publishing before the company went into administration last year.
"It was important for us to make sure that the backers, artists and writers that had invested time and/or money in the Clockwork Publishing campaign were not left out of pocket. With this in mind we're reviewing the work done to date under Clockwork Publishing and will be using as much as possible in the new Amargosa Press edition, making sure that the artists and authors are fully paid. All backers of Uhrwerks Game On Tabletop crowdfunding campaign will also receive copies of the new edition, and appropriate supplements, so they are not out of pocket. Amargosa Press has not, and will not, be receiving any money from the Game On Tabletop campaign but will be looking at supporting those backers, many of whom have been core supporters of Dark Conspiracy for ears, and will hopefully continue to be for years to come."
"We have not put any provisional dates on the completion of the new rulebook, and supplements as yet, as we evaluate the existing manuscripts, art, and the plans that Clockwork Publishing had in place for the game. Obviously no work has taken place since Clockwork Publishing went into administration in June 2019, but we hope to move quickly now that the license has been agreed and assets have been transferred. Amargosa Press now also has access to the Game On Tabletop crowdfunding campaign platform so can keep backers updated directly going forward and build up engagement with the community and fanbase."
We are happy that something is progressing in this space, and  I'd recommend both visiting the crowdfunding site (https://www.gameontabletop.com/cf189/dark-conspiracy-a-roleplaying-game-of-supernatural-horror.html) and joining the Dark Conspiracy RPG Fan Facebook page (https://www.facebook.com/groups/17238002760/) to keep appraised of the situation.
Keep safe out there!
The DCtRPG.info crew